A Note from Lamar White, Jr., Publisher:
I.
Today, Thursday, June 13th, 2019, we have completed the rebranding of the Bayou Brief, with an all-new masthead and logo that confidently expresses our mission and affirms our commitment to the people, the land, and the history of Louisiana.
If you have followed the Bayou Brief from the beginning, you likely have read that description before, but I have only hinted at its inspiration. Five years ago, I interviewed with the BBC about the film adaptation of "12 Years A Slave," Solomon Northup's unbelievably true story of his dozen years in captivity, the majority of which were spent along the banks of the Bayou Bouef, a remote part of Central Louisiana where my paternal grandmother and her eleven siblings were born. Her eldest sister Sue Eakin had spent the majority of her life researching and eventually verifying the account of Northup's book (as it turned out, I not only had studied writing in Northup's native home of Saratoga Springs, New York, I was also a descendant of one of the families that had "owned" him).
After the interview, the BBC had asked me to take them to Sue's headstone, and I wasn't entirely sure of the location. So, I called her son (and my cousin Frank), and over the phone, he served as our GPS. It was the first time I'd ever seen her grave, and its inscription had a lasting and profound impact on me.
That was, to me, the most poignant summation of the life of someone I had known, words that I imagine many of us could only hope to be remembered as our legacy.
Sue and her sister Manie Culbertson had written the textbook that generations of school children used in their Louisiana history classes. They had quietly dedicated their lives to telling the stories of Louisiana, and they were both remarkably progressive women, far ahead of their times, and too often overshadowed by their much less impressive male colleagues.
These extraordinary women- their passion for the truth about our state, for their sense of moral justice and their beliefs in civil rights and fearlessness in tackling our greatest challenges and confronting and debunking a romanticized version of our history- were both inspirations and aspirations.
When I first considered the idea of launching a new publication, I already knew what words I'd select to express its mission:
The problem was finding a way of expressing the vernacular of Louisiana on an online platform. I found it nearly impossible to articulate my vision to web designers and developers unfamiliar with the Louisiana aesthetic. That is not their fault. It's challenging to explain how to communicate what a pastiche of the entire state could look like, and from the very beginning, I knew that would be what the Bayou Brief would be about: the whole state.
So, as a matter of convenience and in an effort to expedite the publication, my board and I agreed on something simple: A distinctive, blue pelican we eventually named "Clippy" (both because he looked like a paper clip and clip art) became our brand. None of us were in love with it, but for a while, it sufficed. Still, it missed something fundamental about the identity we were hoping to project. To be sure, some readers really liked Clippy, and if you look closely at the new logo, he hasn't been killed off completely, but whenever I'd hear from a friend or a critic who didn't care for the design, I'd have to admit: I agreed.
Today, thanks to the artistry, talent, and intuition of Brooke Cailloutte of Ace High Printing Company in New Orleans, we have now have a cover that matches the book.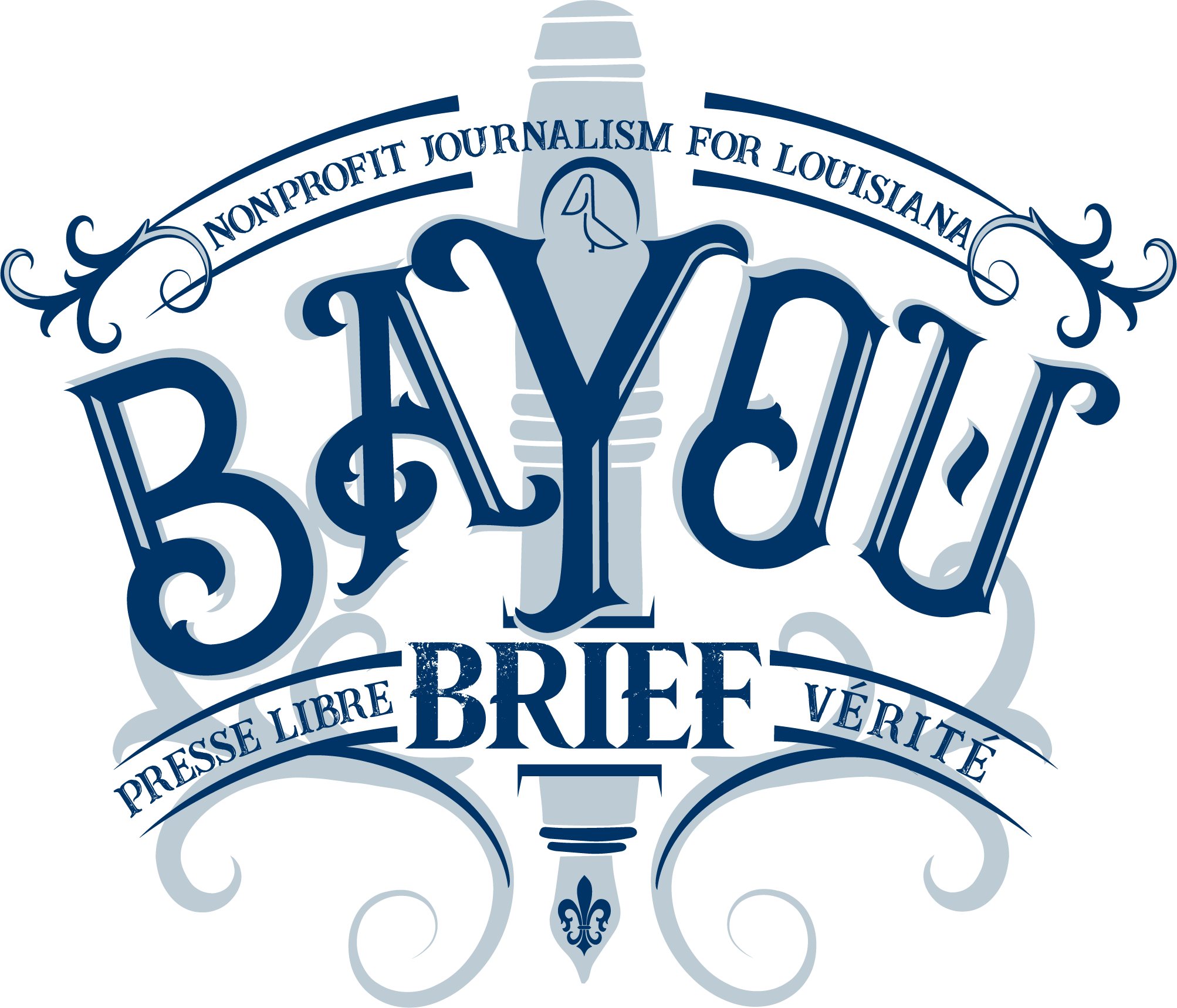 I will explain in detail what the new masthead and, especially, the new logo represent, but I think first, it is worth reflecting on why I decided to launch the Bayou Brief and to better explain what this project is and has always been about.
II.
Two years ago, before the lights turned on at the Bayou Brief, I had spent the previous eleven years- the halcyon days of blogging- writing a personal website that had been largely focused on my own commentary about Louisiana politics. At some point, though, as the state news media dwindled and local media outlets struggled to adapt to the internet, the blogosphere took on increased significance, and with that, added responsibility, at least for those who had cultivated an audience.
There was nothing unique about what had occurred to the press here in Louisiana, though we were hit harder than most. Gannett gobbled up nearly all of the newspapers in Louisiana's mid-sized markets, spending a fortune at almost the exact moment the traditional model began to crumble. In my hometown of Alexandria, for example, by 2011, my blog, CenLamar, regularly received more daily online readers than The Town Talk, an institution of Central Louisiana since 1883.
The Town Talk became a shell of its former self after its publisher, Joe D. Smith, sold it for an astonishing $62 million in 1996 to a company that quickly unloaded it to Gannett. By the time I had moved back after college, I referred to the paper, like many others, as the Clown Talk. It was unfair to the hardworking and professional journalists, but privately, even then, they would acknowledge the once-proud, once-robust paper was being gutted by white men from the East Coast with Ivy League degrees and no clue whatsoever.
Again, throughout the state and the country, this was the rule, not the exception, and in the vacuum created by corporate consolidation, writers like me were able to find opportunity. I could be nimble and not beholden to the corporate agendas of advertisers, enjoying the kind of flexibility and a fearlessness that journalism schools and self-professed, highly-paid experts in the First Amendment had neutered.
The corporate consolidation of the state media had another, arguably more insidious effect, which was particularly pronounced in small and mid-sized markets like Louisiana. The desire (let's not call it a need; it was a desire) to reduce costs and maximize profits meant that experienced, better-paid reporters were usually considered a financial liability and not an asset. Newsrooms were gutted. Editors and publishers were given deployments like members of the military.
I worked for the mayor of Alexandria for five years and never once met or even saw the man who had been in charge of The Town Talk, Paul V. Carty. Before he arrived in Alexandria, he'd spent a few years running the editorial page of the paper in State College, Pennsylvania, followed by a three-year stint as a business editor in Bradenton, Florida, and then another three years as a managing editor of a paper in Elmira, New York. The man knew nearly nothing about Louisiana, and in my opinion at least, he didn't seem curious to learn about it either.
For me, although it may come across to some as idealistic or naive or even arrogant, the experience of watching the slow-motion self-immolation of The Town Talk was antithetical to everything I had believed about the virtues of a free press. It had become led by people who weren't bad at their jobs because they were simply incompetent; they were bad because they were lazy and disinterested.
And there were tangible, real-world consequences to their ineptitude. I experienced it first-hand as my hometown's paper of record failed to even grasp the quotidian drama of city government or the need to push back against racism and prejudice whenever it manifested.
Good people lost their jobs. In Louisiana, the layoffs were staggering. And all of those layoffs meant that suddenly there was a dangerous lack of institutional knowledge.
Fake news is a real and persistent problem, but not for any of the reasons Donald Trump asserts. For him, the news is fake when it rejects his propaganda, and Americans who live in places like Louisiana are especially vulnerable to that message- one in which the press is "the enemy of the people." If you doubt my characterization, watch the new documentary about Steve Bannon, "The Brink."
For many of us, it was infuriating- it still is infuriating- to see the ways in which our politics and, therefore, the laws that govern our daily lives are being infected, even poisoned, by a corporate press that either deliberately acts in bad faith or is too lazy or too disinterested to care.
Sure, there are notable exceptions: The Times-Picayune tried their damndest to survive despite corporate negligence, and John Georges, despite his quixotic bids for public office, has built a Pulitzer Prize-winning news team at The Advocate. That is commendable, and as an avid consumer of the news in Louisiana, I appreciate Georges for his willingness to endure years of financial losses in order to preserve some important and critical institutions.
But I also cannot help but be disappointed by the ways in which Georges, who is personally worth well in excess of $350 million, represents a disturbing trend in the industry, a paradoxical truism my late father often observed: "You have to have money to make money." And when Georges recently compared himself (a man who is immensely proud of his Greek heritage) to Alexander the Great (a Macedonian; for the record, I have too many Macedonian friends in my life to dare say otherwise), it was just slightly less as unhelpful to his empire as the majority of his editorial staff has been to the credibility of his newsroom. We also cannot overlook or excuse the manner in which he rolled out the purchase of the Times-Picayune, which seemed as cartoonishly villainous as Montgomery Burns. He gave everyone a 60-day termination notice, vowing, through his proxies, to only hire a fraction of the staff and the newsroom back, if they chose to reapply for their old jobs. No one at The Advocate would lose their jobs, as an editor argued, without any hint of irony, because of the importance of rewarding loyalty.
To their immense credit, the Times-Picayune employees handled the announcement with impressive grace and professionalism. Georges, though, acted as if the purchase was comparable to a kind of military strategy. Yet the subtext was clear: He was buying a brand name, without respecting the people who ensured the name endured. We can all root for the success of the combined news organization while also recognizing and learning from how silly it was to literally treat this as a war.
All of that said, my criticism isn't really with the two "major market" papers in Louisiana; it's with the out-of-state conglomerates that devastated the rest of the state's media.
III. Raison d'être:
I am not pretending to know the magic solution or to have figured out a secret formula, because the simple truth is: This is enormously challenging work, and we're all fumbling for answers.
During my first two years at the Bayou Brief, we've built a respectable audience; we've broken stories of regional, statewide, and even national significance. We've won accolades and even occasionally the begrudging respect of colleagues at much bigger and much more accomplished publications. But again, this is tough work, and I've made more mistakes than I can count. I've listened to bad advice from the wrong people and ignored good advice from the right people. I've taken on far more, by myself, than I could possibly handle, and on a couple of occasions, I've hired people who promised they could help but ended up making things even more difficult.
Thankfully, though, I've never published an article I regret (though we will no longer be endorsing any candidate for any local or state office ever again); I've always been immensely proud of all of our freelance writers and contributors; I made the best decision of my professional career in bringing Sue Lincoln on board, and I've never had to issue a material retraction or apology (knock on wood).
I have stayed faithful to our mission, and I know now more than ever that our mission truly resonates.
I've also tried, with varying degrees of success, to follow the single best piece of advice anyone ever gave me when we launched. Steve May, one of the most successful publishing entrepreneurs in Louisiana, sat me down at his home in Lafayette one afternoon and cautioned me to avoid a trap that would have otherwise been unavoidable for me. "You can't only publish stories about politics," he said. "If you do, you become yet another political blog. To be credible, you must diversify your content."
So far, we've published 71 stories about arts, culture, and history, 75 stories about sports, a multi-part series on Clementine Hunter, an investigative series on car insurance, 21 stories about education, 38 stories about the environment, and only 14 stories that can be appropriately categorized as pure opinion. We also made a deliberate decision to differentiate between stories about politics and stories about policy, because although they sometimes overlap, often, they don't.
I had vowed to do my best to cover stories on all corners of the state. Right now, we have 24 about Acadiana, 39 about Baton Rouge, 31 about CenLa, 66 about New Orleans, and 23 about Shreveport. We are actively looking for more original content about Monroe, which has only been the subject of 9 stories, and we intend on adding a rural section to include all of the places in Louisiana that don't quite fit into the confines of our traditional media markets.
We've also relaunched our podcast, "Briefly Speaking," which is now available on eight streaming services, including Spotify and Apple, and in a couple of months, we'll debut a multi-part podcast about one man's extraordinary life's story.
I am keenly aware of what we need to improve: First, we must raise substantially more money to be able to afford more content from more writers in more parts of the state. We need to dramatically improve our outreach to subscribers and supporters and ramp up our social media.
The good news is: All of this is within our reach.
IV. So, About the Logo:
The logo, if you look carefully, is essentially in the shape of a fleur de lis, which it includes separately at the bottom; the top flourish is a reference to the entrance gates you'll encounter at cemeteries in New Orleans as well.
In the middle there's a 19th century ink pen, an homage to the abolitionist writers of the time, and will occasionally be swapped out with an image of a cypress tree and the state Capitol. Obviously, the French words for "free press" and "truth" are a tribute to Acadiana.
And the typeface: "Bayou" is styled similarly to the typography of French colonial Louisiana, and if you care to know about the style of "Brief," look up the mastheads of some of the state's earliest newspapers, specifically the New Orleans Bee and The Town Talk.
Oh, as I mentioned from the beginning, Clippy the Pelican still manages to make an appearance, but now, the story isn't only about him.
In gratitude,
Lamar