In what amounts to a deployment penalty, several large Louisiana car insurers raise rates, in some cases by nearly 30%, on National Guard members and other military personnel who re-enter the private insurance marketplace upon their return from a tour of duty, according to research conducted for the Bayou Brief by national insurance expert Douglas Heller.
Even with clean driving records, returning veterans who served on a tour of duty are charged more by some companies than those who those who had not been deployed. 
State law mandates that active drivers maintain basic, monthly liability coverage, but coverage is not required when a person no longer drives. Insurance companies often justify penalizing drivers whose coverage has lapsed under the pretense of a government regulation, arguing that such penalties serve as a deterrence against those who continue to drive after their coverage lapses. In reality, though, only the state can legally enforce and collect financial penalties, and insurance companies commonly exploit the ambiguities about or the lack of enforcement as a profit center, regardless of whether or not a driver's lapse in coverage was reasonable or justified.
Similar studies in other states have shown that individuals whose coverage lapsed due to an extended hospitalization or time spent in incarceration have also been penalized once they re-enter the marketplace, but the practice of penalizing members of the military strikes many as particularly egregious.
"It is frustrating to learn that deploying to uphold your military duty and serve your country, in turn, has a negative financial impact on your insurance and your family," said Ben Armstrong, a Marine veteran and the commander of New Orleans Veterans of Foreign War Post 8973 (the NOLA VFW). "I don't understand why there isn't a law or policy governing insurance companies and how they interact with military in this situation who are sacrificing to serve us."
The NOLA VFW is comprised of more than 300 veterans and active duty service-members who served in Iraq, Afganistan, the Persian Gulf, Vietnam, Korea, and World War II.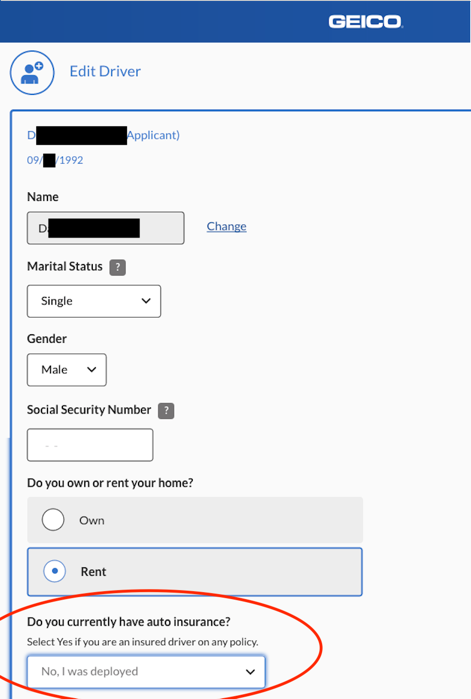 Heller found that GEICO, for example, imposes a 29% surcharge on the auto insurance premium of a driver who explains that he was previously uninsured because "I was deployed."
A returning soldier who lives near Camp Beauregard, the Louisiana National Guard base in Pineville, or sixty miles away by Ft. Polk and the Joint Readiness Training Center (the country's only U.S. Army installation that both trains and deploys combat units) faces $149 in extra premiums for his first six-months of basic auto insurance compared with a Louisianian not called to service, even he has a lifetime perfect driving record.
Allstate Insurance also asked if a driver was uninsured due to "returning from military deployment." For that serviceman, however, there is no online quote available, despite his good driving record. Instead, the company presented him with an apology screen, suggesting there was a technical error and that the soldier should contact an agent.
This purported "technical problem" occurred any time a researcher asked for a quote for a recently returning veteran, even while Allstate was able to provide a quote to a non-serving driver who had recently caused an accident. It is not clear if Allstate would sell the guardsman a policy at all, or if there would be a deployment penalty added to the premium.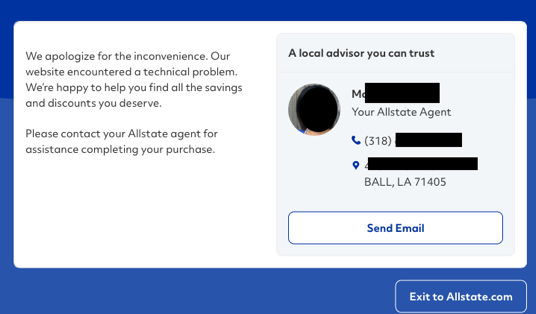 "Punishing good drivers with higher auto insurance premiums or barriers to coverage because they were deployed abroad is astonishing and repulsive," said auto insurance expert Douglas Heller. "The board members and corporate parents of these big companies should be asking serious questions about how they are pricing customers in Louisiana. And Louisianians should be asking why the Insurance Commissioner, Jim Donelon, is letting these companies treat service-members this way."
Two other large Louisiana insurers – Progressive and GoAuto – both charged significantly higher rates to drivers who do not currently have auto insurance, but neither of those carriers specifically ask whether the reason for the lack of coverage was military service. GoAuto charged the guardsman who did not have prior coverage $112 (12%) more for six months than it charged a similar driver who already had insurance.
Progressive charged $351 more (a 47% increase) for being uninsured while out of the country. It is not clear whether the driver's deployment might excuse him from Progressive's penalty, as the company website has a disclaimer that customers can call if "you think you were not required to carry insurance."
State Farm and Louisiana Farm Bureau, the other two companies tested, do not appear to impose penalties on service members who had a lapse in coverage during their deployment. 
"It is obvious that insurance companies can sell an auto insurance policy without punishing Americans for their service, and insurance companies should not have to be scrutinized to make sure they treat soldiers fairly," said Heller. "But, in Louisiana, the insurance companies seem to do just about whatever they want, and there is far too little oversight of their pricing practices. This should be an easy reform."
Armstrong of the NOLA VFW agrees. "There are thousands of federal and state policies and executive orders that cover military educational benefits, employment and reemployment rights after deployment and various other things. Why is this not addressed? This really shouldn't be a political issue. This should be about doing what is right."